You know how they say you can't improve what you can't measure?
In the world of Google and search engines, there are 2 challenges to that.
The first challenge is you can't measure what you can't track, and in the organic world where ranking means everything, Search Engine Results Page (SERP) tracking is incredibly important.
The second challenge is what SERP tracker tool to use.
Now, there are numerous SEO tools that feature basic rank trackers, but are they enough?
The best SERP tracking software should help you identify where, when, and how to improve your content and website.
So in this article, I've compiled and compared the best SERP checker tools trusted and reviewed by myself and many other SEO experts. I'll break the list down by:
If you're just looking for a SERP checker
If you're looking for an all-rounder tool
What is the Best SERP Tracking Software?
Nightwatch and AccuRanker: Best dedicated SERP tracking tools.
SemRush: Best all-rounder tool.
Nightwatch is a robust and dedicated rank-tracking tool that guarantees you the most accurate ranking data.
When comparing this tool across the board, I and many other SEO-ers (as I like to call them) have found this claim to be very accurate.
The tool uses multiple Google Data Centres, allowing you to track your rankings in Google Search, Google Maps, and other search engines at any location.
This tool is a pretty handy one for many reasons. It provides powerful segmentation that unlocks unique opportunities in no time. You can assess a keyword from different perspectives to discover viable keywords, effective content, keyword performance, and so on.
Main Features
Accurate rank tracking: Nightwatch works for local searches across various locations worldwide.
Automated reporting: Nightwatch's reporting automation will give your website the edge it needs with accurate information from search engines and tools like Google Analytics and Google Search Console.
Powerful site audits: If your pages are missing SERP features or contain errors, the Nightwatch site audit tool can discover and help fix them.
Pricing
Nightwatch has a tiered pricing structure that increases with the number of keywords you want to track. For:
250 keywords: $39/mo or $32/mo paid annually
500 keywords: $59/mo or $47/mo paid annually
etc
This tiered plan goes up to 10k+ keywords. Note that for less than 6000 keywords, you won't get features like white-label reports and API access.
The best part is that you can try this tool for free for 14 days and decide for yourself whether this is the right tool for you.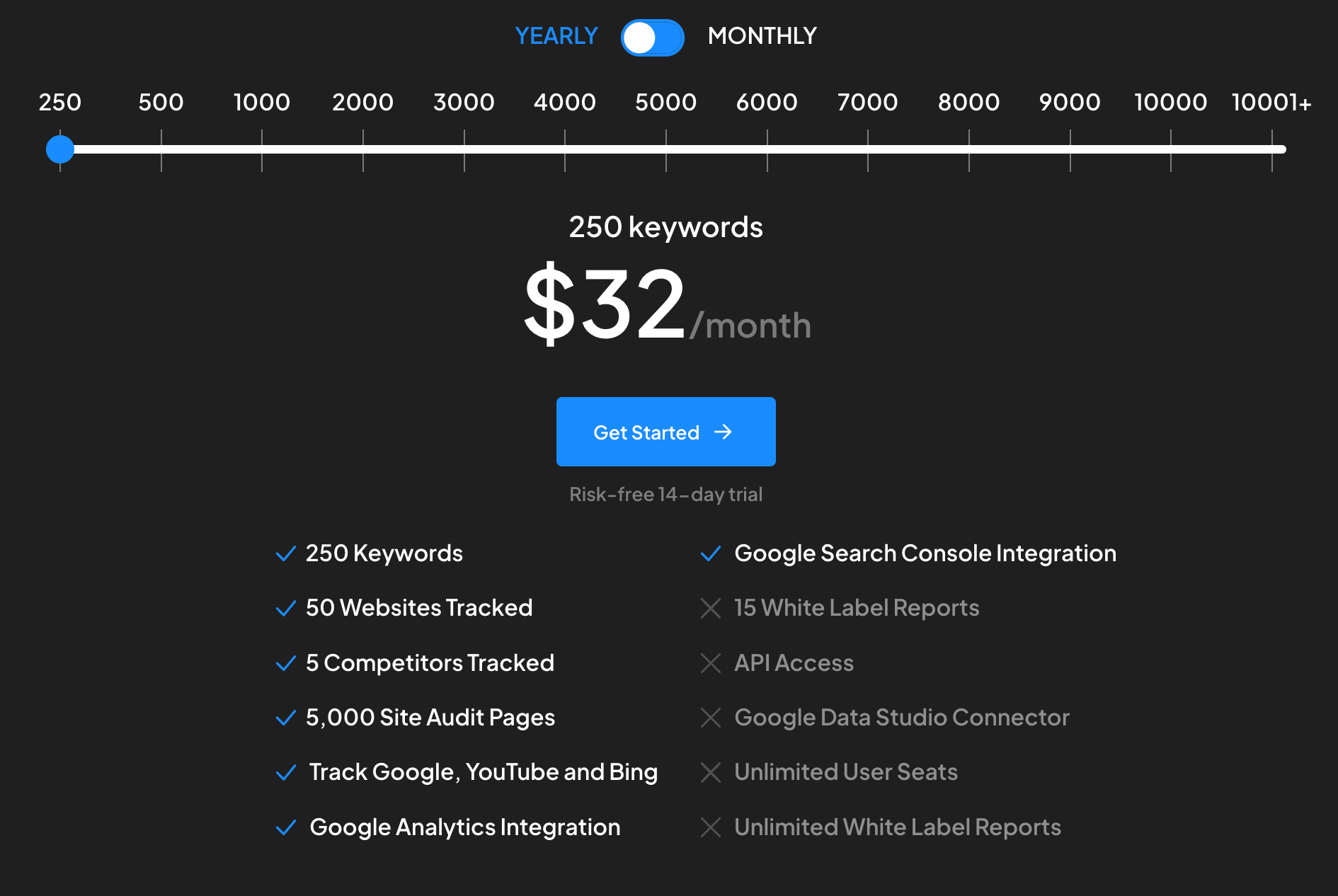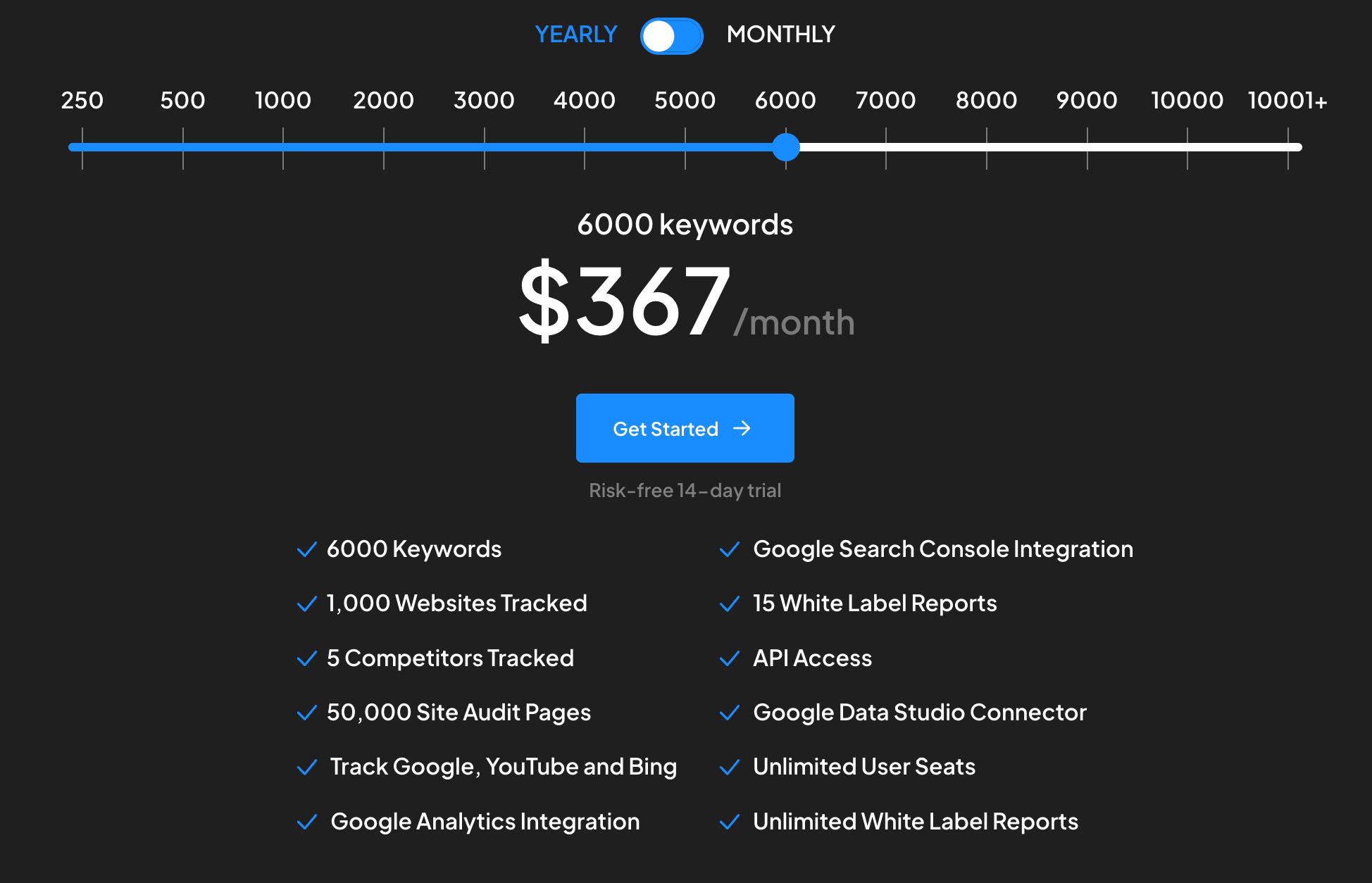 💬 The bottom line
Nightwatch is one of the most accurate SERP tracking tools in the market. With a huge information database, comprehensive reporting, helpful segmentations, and competitive pricing, this is one of the best if you just wanted to track your search results.
2. Semrush
Semrush is one of the most preferred SEO tools for SEO professionals, freelancers, agencies, and corporations. That's because Semrush offers in-depth and accurate data through numerous effective SEO tools.
Amazingly, Semrush has a couple of tools that are SERP tracking solutions.
For instance, the popular Keyword Overview will give you a nice summary of any keyword's SERP features. In addition, you have access to important SEO, CPC, competition, etc., data.
However, if you intend to track daily SERP changes for your website, the tool to use is Position Tracking. This tool will monitor your position and changes on SERPs.
Another Semrush tool you can use is the Semrush Sensor. This one identifies algorithm changes and presents a unique way to take advantage.
Other notable features
Semrush Position Tracking lets you track your position in relation to competitors.
SERP analysis reveals the search intent of keywords to help you create better content.
Unlimited segmentation with Tags.
Custom reports that are available in PDF.
Pricing
There is a free plan, a free trial, and three Semrush pricing plans. They include the pro plan at $99.95/month, the Guru plan at $191.62, and the Business plan at $374.75/month.
💬 The bottom line
Semrush is a powerful SERP tracking tool, and that's likely why it's achievable using different tools. Whatever tool you use, you get Semrush's comprehensive data, ease of use, and accuracy. 
3. Accuranker
Accuranker is another dedicated tracking software for all ranking and SERP features. This is a platform best suited for enterprises and SEO agencies who need to track multiple keywords for multiple client accounts.
Considering it offers on-demand updates, Accuranker is a top recommendation for agencies who need to report to clients frequently. It also helps you track changes and take advantage of opportunities faster.
In addition, by supplying accurate SERP history data, Accuranker helps to reveal which keywords and features are generating traffic and others you should work on.
Other notable features
Filter data with Accuranker's many filters and segmentation.
Compare competitors and discover additional keywords with ease.
Daily and on-demand updates.
SERP checking across several locations and on both mobile and desktop platforms.
Pricing
Accuranker pricing is pretty straightforward. Like Nightwatch, there's a 14-day free trial, and afterward, you can enjoy tracking 1000 keywords at $116/month. It has other denominations of 1.5K and 2K, up to 1000K keywords.
💬 The bottom line
Accuranker is a no-fuss SERP tracking solution. It is built to offer ease and effectiveness, and those are evident in the available features, reports, in-depth data, and straightforward pricing. However, the minimum cost starts at $116/mo, which makes it a steep price to pay for just a SERP tracker.
SE Ranking is an easy-to-use and comprehensive SEO software.
This software is capable of the most important organic and paid search strategies, including on-page SEO, keyword and competitor research, site audit, backlink analysis, as well as rank and SERP tracking.
The SERP Tracker is a nifty tool for getting valuable insights and metrics to improve your website.
You simply have to enter the keyword, location, and platform.
The results will reveal details about the top results, including their keywords, backlinks, and traffic.
There are over 100 metrics you can check out and an overall score signifying each page's quality. There's also the option to exclude pages that are irrelevant to your search.
Other notable features
Monitor your website against competitors.
Discover crucial keyword opportunities and site improvements quickly.
Compare SERP metrics across search engines.
Pricing
SE Ranking pricing offers great options and freedom based on your needs. With it, you have a robust SERP checker for as low as $18.72/month, which makes it one of the most affordable SEO tools for SERP tracking.
💬 The bottom line
Not only is SE Ranking an affordable SEO tool, but it is also a great SERP tracking software with options that guarantee valuable insights and freedom. You can view SERP data from multiple angles or leverage the many advantages to outrank competitors. 
5. Mangools
Mangools is a suite of powerful SEO tools. Its tools can help with keyword research, rank tracking, backlink analysis, and SERP tracking.
As for SERP tracking, Mangools has three tools you can leverage, and effective usage will be highly beneficial for your website. They are the SERPChecker, SERPWatcher, and SERP Volatility insights.
SERPChecker will analyze search engine pages, with insights on the top pages and how to outrank them. It is also quite straightforward to operate.
The report can be viewed in tabular or snapshot mode. You can also adjust which data is displayed in the report. However, the default report shows you keyword difficulty, all SERP features, and their impact.
The Compare Box is another feature that comes in quite handy. With it, you can compare your website or any other websites
Other notable features
The SERPWatcher helps you track your relationship with SERPs.
SERP Volatility Insights informs you of changes in SERP algorithms and helps you take advantage.
Multiple ways to save and share your SERP tracking results.
Pricing
You can save up to 40% with Mangools' annual pricing to get the Basic at $29.90. Other plans are Premium at $39.90 and Agency at $79.90. They also have a 10-day free trial to see if the features suit you.
💬 The bottom line
Mangools is a dependable SEO tool with an excellent SERP tracker. It's one of the few software with different dedicated tools for SERP tracking and rank tracking. That's a sign of in-depth information, and Mangools certainly lives up to it. 
6. ProRankTracker
ProRankTracker is primarily a rank tracking tool, but it does other things as well. For instance, it can find relevant keyword ideas and analyze your competition.
This tool is helped by a highly-accurate algorithm, ease of use, and the capability to operate in multiple languages. This is a great local SEO tool that allows you to get exact rankings across different search engines and categories like local search and local business.
Create a new SERP tracking project by entering your domain and keywords to track. You will also select the device, search engine, location, and language.
ProRankTracker will continue to deliver daily rank updates and changes over time.
Its reports are also a nice avenue to discover keywords you didn't know you rank for or new ones you should create content around.
Other notable features
ProRankTracker can deliver international and local SERP tracking for major search engines, including Google, Yahoo, Bing, YouTube, and Amazon.
Easy segmentation using tags and groups.
Multiple ways to get notifications and schedule reports.
Additional keyword research and competitor analysis.
Pricing
ProRankTracker's free plan gives you up to 100 keywords for the first month. Its pricing is also quite affordable, starting at only $11/month. The Pro plan gives you more features and tracked keywords at $71/month, while there's even more with the Agency-7000 plan.
💬 The bottom line
ProRankTracker is a comprehensive ranking tool capable of keyword and competitor research. Its SERP tracking tool is complete with effective local and mobile ranking as well as in-depth reporting.
7. Ahrefs
Ahrefs needs no introduction on the SEO scene. It is a powerful software that offers a suite of SEO tools your website will benefit greatly from.
Their rank tracker tool doubles as a SERP analysis tool that lets you monitor search engines for essential SERP features.
Setting up this Google ranking tool only requires specifying the keyword, locations, and competitors.
The report is comprehensive and reveals data on up to 13 SERP features. You can then adjust in different ways to reveal the details you seek or use the complete information to improve your pages.
Ahrefs also has a free SERP Checker tool that gives an overall analysis of the ten top-ranking pages for any keyword across multiple countries.
Now the reason why this tool is last is that, while it's an incredibly powerful all-in-one SEO tool, the price is steep if you are just looking to use their rank tracker.
Other notable features
Availability across different search engines, devices, and 170 countries.
In-depth analysis of how you're holding up against competition for keywords.
Regular reports of the most notable changes.
Easy data segmentation and visualization with filters and tags.
Pricing
Ahrefs pricing starts at $99/month for the Lite plan and $199/month for Standard. The Advanced plan is $399/month, while Enterprise is $999/month. You do not get a free trial, but many tools are available for free on their site.
For SERP tracking, you are looking at the standard plan to get all the bells and whistles. So while I highly recommend it as an all-in-one SERP checker, it's not worth the price if that's all you are looking for.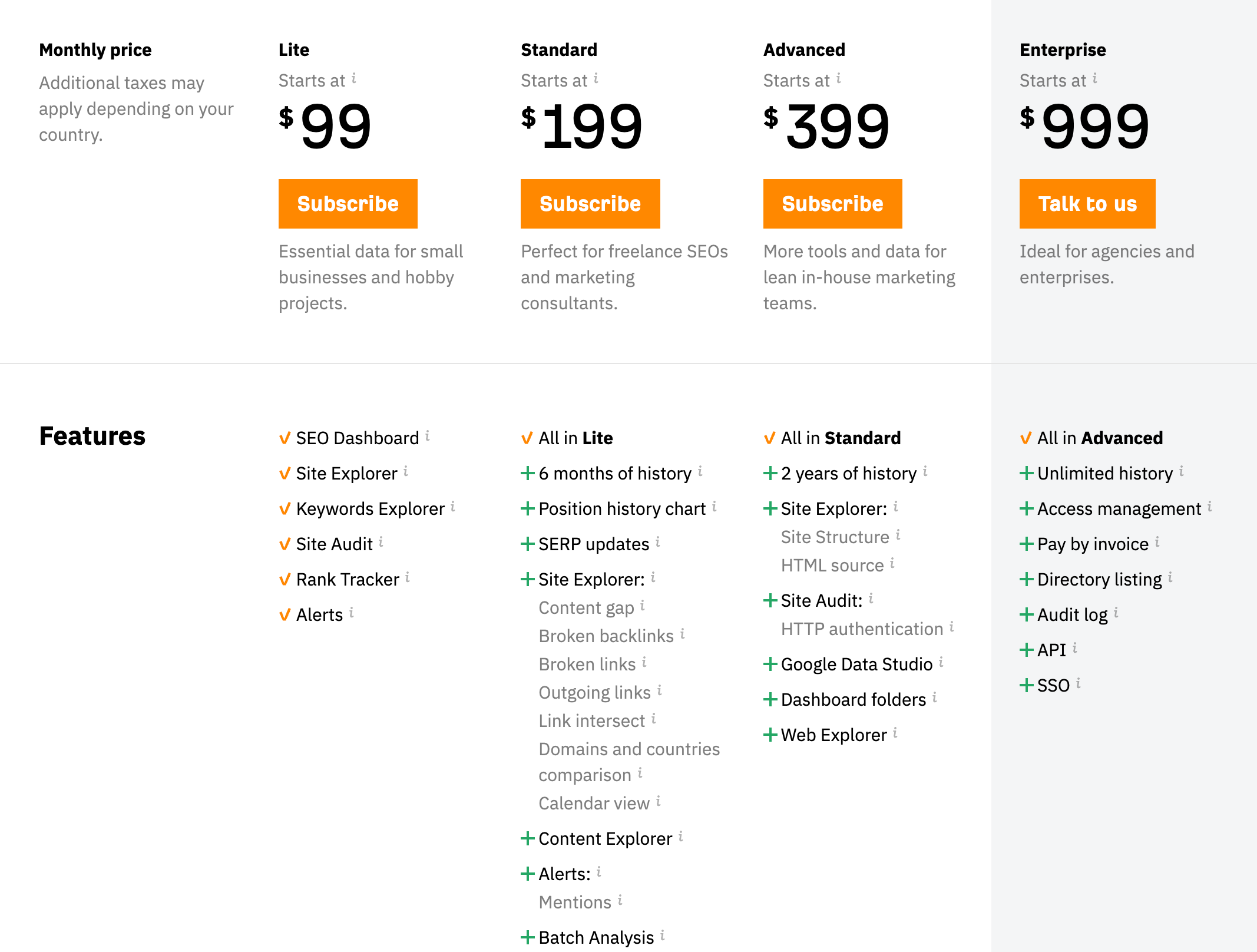 💬 The bottom line
Ahrefs is a powerful all-in-one SEO tool that has a great SERP analysis tool and tracker. If you were just looking for a search results tracker itself, I wouldn't recommend this as it would be a steep price to pay, but if you wanted an all-in-one tool, this is a great option.
In a nutshell…
Search engine results pages are volatile. The results change constantly – depending on time, location, and data.
You should have some sort of SERP tracker in your arsenal of SEO tools – whether they are tools like AccuRanker or Nightwatch, which are dedicated tools, or all-rounder SEO tools like SeRanking.
The most important takeaway here is that these tools are all informative and won't necessarily help you rank better. It's what you decide to do with the results and reports that determine your success in your SEO efforts.
Either way, you won't go wrong with the recommendations above. They offer free trials so you can test it out for yourself to see whether or not it's the right fit for your business.
Good Luck!
Jessica La